THE EAST BRIDGE FUNDING NETWORK™
THE BEST IN THE BIZ
OVER $1 BILLION IN AVAILABLE CAPITAL
POWERFUL, EXPERIENCED, AND HIGHLY EFFECTIVE
Keys to Success
East Bridge Funding has put together one of the strongest networks of Banks, Lenders, Debt Buyers, Hedge Funds, Receivables Servicing Providers, and Collection Agencies in the United States. This network has over a billion dollars available for investment in portfolios and financing programs as well as the best infrastructure and experienced professionals in the industry.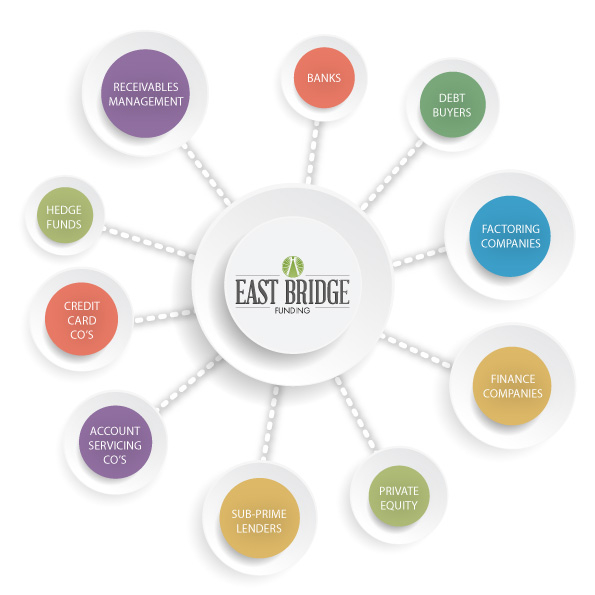 Real Marketplace Solutions
The strong alliances East Bridge Funding has built over the years allow us to be extremely versatile and creative when it comes to our product and service offerings. We can find ways of getting even the most difficult deals done so you can be assured that we will have a program that will work for you no matter how unique your product or service offering is. Give us a call today and tell us about your needs and we will be happy to let you know what we can do to help.
Why Choose East bridge Instead of Going Direct
 Let a lawyer handle legal matters, an accountant should do your accounting, and trust East Bridge with your capital needs.
The projects that we work on for our clients, whether consumer or commercial finance programs, lines of credit, or receivables financing, are very important pieces of their business model.  Our clients know that they can not afford to make a mistake and that's why they choose us. Choosing the wrong solution can cost them thousands of dollars.  They rely on our network, experience, analysis, and reputation to get the job done right.
MORE REASONS TO CHOOSE EAST BRIDGE FUNDING
We are empowered by passion and enthusiasm.